Soda Ash: Turkey to Replace China

Chinese soda ash price surged by 54% over the last two years, as of 2017.
As soda ash price in China remains high, buyers are looking into alternatives. Meanwhile, Turkey is expected to double its annual production to over 5 million tonnes by end of 2019, providing sufficient supply to the market. As such, Turkish production is expected to replace China in a long-term as favourable market condition continues for Turkey.
Basics of Soda Ash

Featured: Light-Grade Soda Ash

Soda ash, also known as sodium carbonate(Na2CO3), is an alkali chemical that is widely used from home to industry. It is essential to understand the nature of soda ash in order to identify potential demand and supply from the market.
There are two grades of soda ash; 'light-grade' and 'dense-grade'. They are identical in terms of chemical composition, where the only difference is their granule size. Light-grade is a fine powder form of soda ash, mainly used to manufacture other chemicals, where dense-grade is widely used for glass production.
Source: USGS, Tridge
Soda ash production can be categorized into two types of processes; synthetic process and natural process.
There are two widely adopted synthetic processes; Solvay process and Hou Process (a.k.a. Modified Solvay Process), where both produces soda ash via chemical reactions. Solvay process utilizes sodium chloride(salt), ammonia, and limestone, where Hou process utilizes carbon dioxide and chlorine salt.
It is relatively straightforward for natural process; trona ore or nahcolite is utilized as the only material to produce soda ash.
Synthetic process dominated soda ash industry since the 19th century as it requires relatively cheap and accessible raw materials. The process still takes up 75% of global soda ash production, but its share has been gradually declining since the invention of natural process. The synthetic process produces 2-3 times more CO2 emission and consumes 2-3 times more energy than natural process does. As such, in the global trend, natural process is preferred over synthetic process.
Supply: Tight in China, More to Come from Turkey
Source: CEIC, Tridge
Global soda ash production reached 53.6 million tonnes by the end of 2017. China is the world largest producer accounting for 50%, followed by the U.S., the second largest producer, accounting for 23% of global soda ash production, as of 2017. Turkey produced 2.1 million tonnes of soda ash in 2017.
Source: CEIC, Tridge
Unlike the U.S. or Turkey where soda ashes are produced mostly from natural process, China produces soda ashes through synthetic processes; 48% from Solvay process, and 45% from Hou process.
In China, soda ash production increased over time, recording highest production of 26.8 million tonnes by the end of 2017. However, the growth rate is to face limits as the Ministry of Environmental Protection(MEP) in China urged local authorities to take action on severe air pollution. Some soda ash producers are now under pressure to reduce their production rate, and some had to close down their production unit.
Source: Bloomberg, Tridge
Source: CEIC, Tridge
With concerns on tight supply, Chinese soda ash price surged by 54% in 2 years. While major soda ash producers in provinces such as Hubei had to shut down their production unit, monthly soda ash production in China dropped by 14.1% in May 2018, from the production amount in end 2017.
It is notable that while major soda ash producers are slowing down their rate of production or even cutting down the amount, Turkey has increased its production by 10% year-on-year in 2017.
Source: USGS, Tridge
According to USGS, total estimated amount of soda ash reserves in Turkey is approximated at 840 million tonnes, ranked second just after the U.S. in terms of exploitable soda ash reserves; trona ore and nahcolite. 1.8 tonnes of trona reserves yields approximately 1 tonne of soda ash.
In 2017, Turkey built a new trona-based soda ash plant in Kazan with an annual production capacity of 2.5 million tonnes and is expected to reach its full capacity by end of June 2018. Existing plant in Beypazari further expanded annual capacity by 0.5 million tonnes. This added capacity from the new and existing plants are to double the amount of annual Turkish production to over 5 million tonnes by 2019.
Rising Demand from Glass Industry
Source: Business Wire, Tridge
Most significant usage of soda ash is in production of glass, which makes the soda ash market highly dependent on demand for glass products. Major usage of glass is in producing glass containers, where most end-users are consumers. Flat glass is also a key driver for glass consumption as it is used in building facades, windows, automobiles, doors, solar panels, and others. Thus, it is important to comprehend the market condition in consumer, construction, and automobile industry in order to identify demands for soda ash.
The outlook for glass container industry stays positive with strong demand for alcoholic beverages and cosmetics, reaching global consumption of USD 55 billion in 2016. The market is further backed by a recent rise in global environmental awareness. Glass containers are irreplaceable due to their chemical stability, reusability, and non-permeability. Southeast Asian countries contributed towards glass container market, accounting for 10% of global consumption.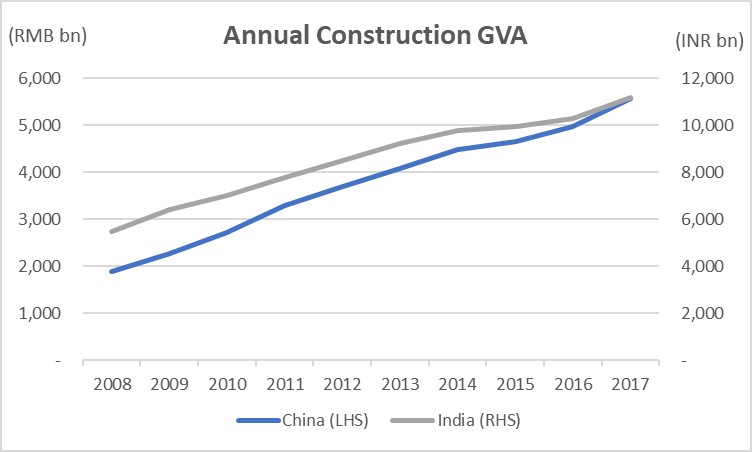 Source: CEIC, Tridge
Emerging market in Asia plays an important role in demand for flat glass. Backed by economic growth, construction market in major Asian countries grew along over the last decade, especially in China and India. Both nations have more than doubled the amount of annual GVA (Gross Value Added) in constructions over the last decade, showing evidence of strong support for the flat glass industry.
Particularly in China, automotive uses also played a great role in flat glass usage. Automotive glass consumption in China is expected to rise by 2-3% year-on-year in 2018, supported by growth in middle-class spending power. However, due to recent environmental control in China, engine vehicles are now taxed at a standard rate of 10%, up from 7.5% in 2017, demotivating new purchases. Still, long-term demand for flat glass in automobile industry stays positive with growing interest of hybrid-power and electric cars, further backed by tax exemptions.
Demand from Chemical Industry Stays Unchanged
Soda ash is a basic manufacturing agent to many chemicals. In chemical manufacturing, soda ash is the main source of sodium ion, which is required in the production of sodium silicates, sodium phosphates, and sodium bicarbonates (baking soda). These chemicals are used in most of the areas in the global economy from food to fire extinguishers. Some governments and associations release soda ash production data as a measure of economic health.
With no significant risks or threats associated with usages of soda ash in the chemical industry, demand from chemical industry stays unchanged.
Where to Source for Soda Ash?
Current global trends for glass consumption confirms rising demand for soda ash. In light of growth in the global construction industry, flat glass is to experience further growth in demand. Glass container industry also remains solid with rising concerns in environmental perspective.
However, there are remaining supply-side uncertainties associated with environmental practice in China. The pressure to shut down or reduce the rate of production caused a surge in soda ash price in China. Not only the tight supply is threatening Chinese soda ash industry but increasing production cost further added adversity to the market.
Source: Markit, Tridge
The production cost of natural process has a significant advantage over synthetic processes due to its nature of raw materials. In particular, the environmental practice in China not only increased the price of soda ash but the price for other raw materials needed for the production. For instance, ammonia price in China increased by 26.9% over the last 6 months, as of February 2018. As continued adverse market condition in Chinese soda ash industry is not expected to improve within foreseeable future, buyers are looking for the alternatives to Chinese soda ash.
Recently, Turkey became one of the major exporters of soda ash as added capacity from new and existing production units are to double the Turkish soda ash production. Turkish soda ash is attractive in the way that they are naturally processed; lower production cost and environmentally friendly compared to synthetic process. With expected excess capacity and lower production cost, Turkey could potentially become a replacement for China.
Contact Us:
Editor: Eunyoo Chang / eunyoo.chang@tridge.com
Sourcing Team Expert: Eunjee Lee / eunjee.lee@tridge.com
Or request for quotation through: https://www.tridge.com/inquiry
---
References

3. https://data.worldbank.org/indicator/
4. http://www.enerji.gov.tr/en-US/Pages/Trona
5. https://www.gobotswana.com/