Rising Demand for Almonds
In 2017, almond market faced growing instability as unexpected frost hit to cause severe damage to California, world's largest almond supplier. In March 2018, China decided to impose an additional tariff on U.S. almonds, which will take effect in upcoming July. Despite the adverse conditions, rising demand will continue to sustain the USD 21 billion revenue almond industry.
Usages of Almonds
Almond is the edible seed of almond tree harvested from August to October. The tree is vulnerable to cold weather and heavily dependent on water. Thus regions suitable for cultivation are very limited. It best grows in the areas of Mediterranean climate, including California, Australia, South Africa, and other Mediterranean nations.
Almond milk is used as an alternative to animal milk in many vegetarian cuisines.
Almond is high in fiber, protein, and other nutrients. While mainly eaten raw, almond has a variety of culinary uses. It is commonly applied in pastry, cookies, and other sweets. It is also processed as oil to make almond milk and almond flour. Almond flour may replace wheat flour and is a great gluten-free substitute.
Global Production of Almonds
According to USDA, the global almond production is projected to reach 1.3 million tonnes in 2017/18 from 1.2 million tonnes in 2016/17.

The U.S is the biggest producer of almonds(Source: Tridge)
World export market of almond is highly concentrated, with the U.S. alone constituting 65.7% of the market. U.S. almond production is expected to increase by 5% in 2017/18, with almond bearing acreage expanding for 9 consecutive years. Spain and Australia follow with 11.5% and 4.6% respectively. The amount of global exports is forecasted to rise to a record 766,000 tonnes, marking a 4% leap from last year.

Almond Board of Australia forecasts domestic production to rise by 10% and export by 9%, fueled by the increase in almond acreage by 15.8% in 2016/17. Both the domestic and foreign markets are showing stronger demand for almond, and the trend is expected to continue. Annual almond consumption of Australian per capita, which ranks 6th globally, surpassed 1 kilogram for the first time in 2016/17.

South Africa is a market with a high growth potential of the almond industry. While the area's climate is adequate for almond cultivation, the market stayed dormant last decade. However, as the almond production becomes more profitable, South African producers plan to extend almond acreage within next few years from 210 hectares to 500 to 1,000. The development of the industry may expedite in the near future with more producers entering the yet to be the saturated market.
Global Trades
Major almond importers are concentrated in Europe, with Spain, Germany, France, and Italy sharing 16.2%, 15.7%, 8.4% and 7.2% of the import market respectively. However, the most notable trend in the market is the recent surge of Asian nations as almond importers. In 2017, India topped Spain with USD 600 million worth of almond import to become the largest almond importer. Particularly during the Indian festive season from September to March, the explosive increase in almond import marked 29%.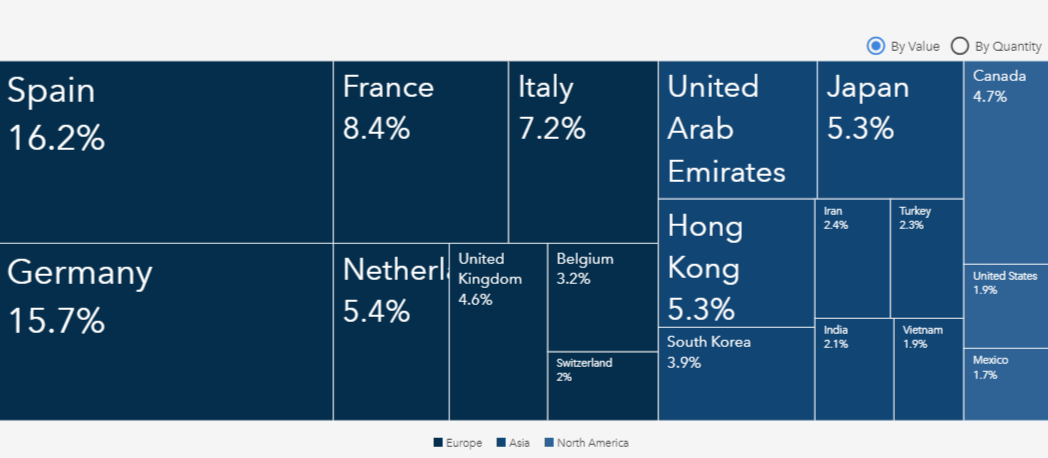 Major importers of Almond are Spain, Germany, France and Italy. (Source: Tridge)
China is another country with rapidly increasing almond demand. USDA projects China's import to grow by 7% in 2017/18 to 100,000 tonnes. While almond appeared on China's retaliation list against the ongoing U.S.-China trade war, the long-run outlook remains optimistic. Driven by the expansion of middle class, almond demand in the Asian market is expected to continue rising.
Market Updates
Almond price, USD 5.1 per kg as of June 19, 2018, according to Tridge, is somewhat volatile due to the high market concentration of almond.
Global wholesale price of almonds (Source: Tridge)
While the U.S. is responsible for more than half the world almond production, California is the only state in the U.S. that produces commercial supply. Thus the Californian weather will continue to influence almond price, as it had in the past when California experienced its worst drought in decades in 2015.
As much as inclement weather, the globally rising demand of almond has propelled the upward tendency of almond price over past years. The unprecedented expansion of middle class worldwide largely contributes to the popularity of almond, as consumers are now better aware of and show stronger preference toward healthy food choices.

People also consume almond as a substitute for major food allergies. Almond milk is an option for those that are lactose intolerant, and almond flour is a gluten-free product that may replace wheat flour. Gluten-free and lactose-free markets are expected to show 10% of compound annual growth rate and will contribute to the expansion of almond industry.
Contact Us:
Editor: Wonjung Yun / wonjung.yun@tridge.com
Sourcing Team Expert: Elly Lee / eunjeong.lee@tridge.com
Or request for quotation through: https://www.tridge.com/inquiry
---
References
1. https://www.tridge.com/intelligences/almond
2. https://www.nass.usda.gov/Statistics_by_State/California/Publications/Specialty_and_Other_Releases/Almond/Forecast/201805almpd.pdf
3. https://apps.fas.usda.gov/psdonline/circulars/TreeNuts.pdf
4. https://growing.australianalmonds.com.au
5. https://economictimes.indiatimes.com
6. https://www.idc.co.za/images/Almond-Final-Report-OABS-2017-12-01.pdf